62% of Women Don't Know What to Buy for Their Parents
How long is your shopping list this holiday season? Finding the perfect gift for friends and family can be a challenge. We wanted to understand who women were purchasing gifts for this season as well as who was the most difficult to shop for. Results from our 2013 Holiday Shopping report show that women have a long list of people to shop for this year, and that some people on their list are harder to shop for than others.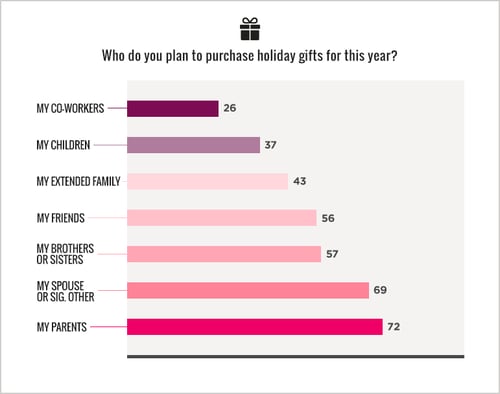 When asked to pick the most difficult person on their list to shop for, parents and significant others topped the list.
The key takeaway here is that the people who are most important to women this holiday are also the people she finds most difficult to shop for. Women can struggle to find the perfect gift that expresses how much her loved ones in her life mean to her. They are seeking suggestions and help on what gifts to purchase.
Marketers should step into this void and provide value by offering authentic suggestions which are aligned and associated with content that provides consumers with tailored recommendations or suggestions of the perfect gifts for that special someone. For non-retail marketers, there's an opportunity to get into the spirit of the season by aligning their products and messaging by providing consumers with a valued service, such as a holiday gift guide. For example, a soda brand could create content showcasing the "most refreshing gifts of the season."