Mirror Mirror: What Women Obsess about Most
Everyone obsesses about something from time to time. Who hasn't looked in the mirror and wished they could snap their fingers and instantly change something about themselves? As part of the POPSUGAR Insights 2014 Healthy Living Report, we asked women to tell us what part of their image they obsess about the most.
Overall, 46% of women said that they are most obsessive about their bodies. An obsession with their body was the No. 1 response of women regardless of their age, life stage, employment status, or region of the country where they live.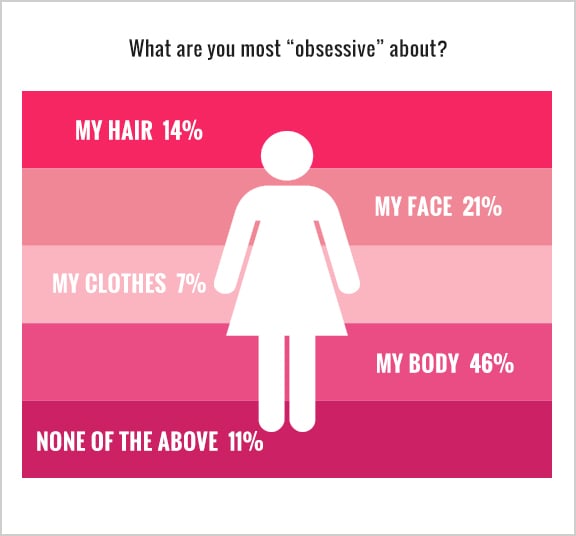 After their bodies, women obsessed the most about their "face" (21%) and their "hair" (14%). Only 11% of women said that "none of the above" were worthy of their obsession, and just 7% said they obsess about their "clothes."
Obsession doesn't necessarily need to have a negative connotation but rather can be an indication of focus and where women are seeking improvements. In particular, women feel their obsession with their body is directly connected to the relative levels of exercise and focus they pay to their nutrition. During our interviews with women, a respondent mentioned that she "can definitely tell a difference in my mood and how I feel about my body when I am at least getting a little bit of exercise each day." Another respondent felt that "physical activity uniquely and profoundly impacts the quality of my life. There is nothing else that matches the impact."
Savvy brands can take these obsessions and focus on the positive aspects of attention by providing fresh and credible takes on how best to lose the negativity, focus on the motivational aspects of wanting to improve, and provide engaging and profound healthy living content that helps women turn their obsessions into positive impressions.