Why Women Exercise: Motivations and Benefits
Exercising every day is an important goal for women, and exercise has a positive, multidimensional effect, helping balance mood, provide stress relief, create life balance, and maintain a healthy lifestyle overall. However, exercise takes time, and it can be difficult to make time in an already crowded day. Getting motivated to exercise in the dead of winter can be very difficult.
As part of the POPSUGAR Insights 2014 Healthy Living Report, we asked women to share their personal motivations for exercising. We wanted to know why they exercised and the benefits that they expected to receive from exercise.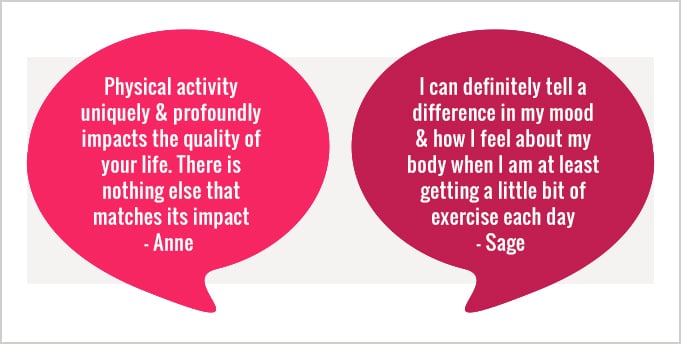 A woman's motivation for exercise is focused on achieving goals for both today and tomorrow. Overall, 66% of women exercise to stay in shape and be fit. A woman that we interviewed felt that everyday exercise should be adopted as part of the human condition in the same way that brushing your teeth every day has been — an accepted daily ritual.
Also, 65% of women exercise to lose weight. Women we spoke to expressed a desire to be healthy for a long time — especially so that they could continue to be there for their families. Overall, 56% of women exercise to gain more energy and feel good, and 55% exercise so that they can look good in their clothes. While women may not be exercising every day, they are always looking for ways to improve, and to some women we spoke with, breaking a sweat is the best way to feel better.
Similar to losing weight, some women are exercising in order to reduce the negatives in their lives; 52% of women exercise in order to reduce stress, and 45% exercise for undisclosed health reasons.
Less than half of all women said that they exercised in order to become stronger or be sexy, and less than one-third of all respondents said that exercising had anything to do with feeling guilty if they don't, so they can indulge in food or drink without any guilt. Only 5% of women exercise because it's a social activity.
Marketers can build upon a woman's motivation for exercise by creating content that helps educate them and make them smarter about how to best achieve their goals. The women we interviewed specifically mentioned topics like muscle confusion, cardio training, exercise ideas for home, exercise demonstrations, and playlist recommendations as topics they'd love to learn more about, and brands can provide information, motivation, and a little stress relief by offering well-organized, fresh content from credible sources that's snackable and goal driven.